Thanks for checking out our current list of cover songs! We love to hear your requests!!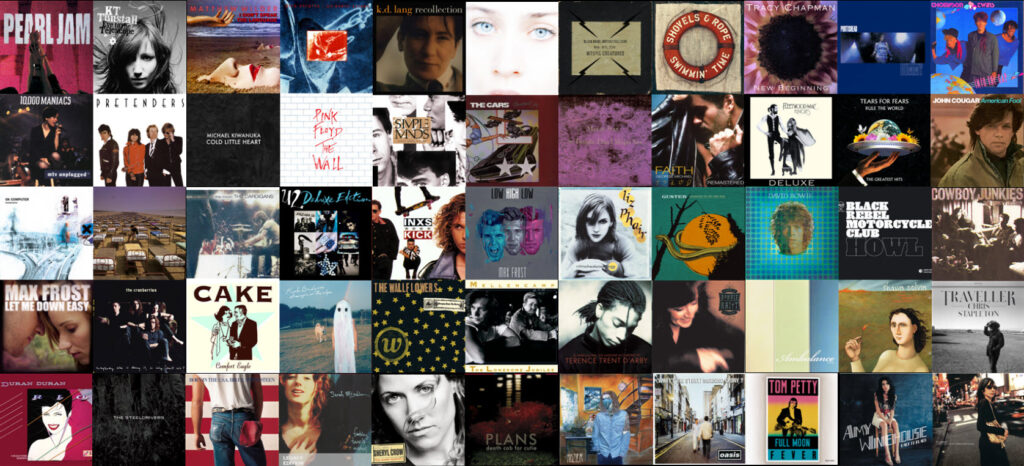 Alyce and Marco's List of Cover Songs
Browse the list of songs below and share your requests either by:
Song Request List
The list below is sorted alphabetically, but you can also click here to browse the song list sorted by decade or sorted by genre.
Alive – Pearl Jam
Another Place to Fall – KT Tunstall
Because The Night – 10,000 Maniacs
Brass In Pocket – Pretenders
Break My Stride – Matthew Wilder
Cold Little Heart – Michael Kiwanuka
Comfortably Numb – Pink Floyd
Constant Craving – K.D. Lang
Criminal – Fiona Apple
Don't You (Forget About Me) – Simple Minds
Dreams – Fleetwood Mac
Drive – The Cars
Echo – Black Rebel Motorcycle Club
Evil – Shovels & Rope
Fade Into You – Mazzy Star
Faith – George Michael
Fast Car – Tracy Chapman / Luke Combs
Give Me One Reason – Tracy Chapman
Glory Days – Bruce Springsteen
Gold Dust Woman – Fleetwood Mac
Handle With Care – Traveling Wilburys
Head Over Heels – Tears For Fears
Hold Me Now – Thompson Twins
Hungry Like the Wolf – Duran Duran
Hurts So Good – John Mellencamp
I Will Follow You Into The Dark – Death Cab For Cutie
Ice Cream – Sarah McLachlan
If It Hadn't Been For Love – The Steeldrivers / Adele
I'm On Fire – Bruce Springsteen
It's Different for Girls – Joe Jackson
Jolene – Dolly Parton
Karma Police – Radiohead
Learning To Fly – Pink Floyd
Let Me Down Easy – Max Frost
Linger – The Cranberries
Love Is Blindness – U2
Love You Madly – Cake
Lovefool – The Cardigans
Malibu – Hole
Me And Bobby McGee – Janis Joplin
Motion Sickness – Phoebe Bridgers
My Wish – Alyce Inversion Project
Mystify – INXS
Never Tear Us Apart – INXS
Nice and Slow – Max Frost
One – U2
One Headlight – The Wallflowers
Paper In Fire – John Mellencamp
Polyester Bride – Liz Phair
Roll Your Own – Hoyt Axton
Santa Monica – Everclear
Satellite – Guster
Say It Ain't So – Weezer
Sign Your Name – Terence Trent D'Arby
(Sittin' On) The Dock of the Bay – Otis Redding
Sledgehammer – Peter Gabriel
Small Town – John Mellencamp
Space Oddity – David Bowie
Still Suspicion Holds You Tight – Black Rebel Motorcycle Club
Sugar Pill – Ambulance LTD
Sunny Came Home – Shawn Colvin
Sweet Jane – Cowboy Junkies
Take Me Home, Country Roads – John Denver
Take Me To Church – Hozier
Tennessee Whiskey – Chris Stapleton
The Bug – Dire Straits
Wonderwall – Oasis
Who Did That To You? – John Legend
Yer So Bad – Tom Petty
You Know I'm No Good – Amy Winehouse
You Said Something – PJ Harvey
You Wreck Me – Tom Petty
Want More?
If there are other songs you'd like to hear us play at future shows, please let us know via email or social media, and we'll consider learning them to add to our set. Follow us online to stay updated about future shows.
Thank You!
Tips for the band can be made in person at the shows or in the online tip jars below. Thank you so much!
We ❤️ y'all!
~Alyce & Marco
Want to Listen at Home?
We hope you enjoy these songs as much as we do! If you'd like to listen to the original versions of these songs, tune in anytime on Spotify to the "Alyce and Marco – Cover Songs" playlist that inspired our current set.